Payment Options
We accept payment in cash, check, or credit cards.  We also offer financing through Lendmark.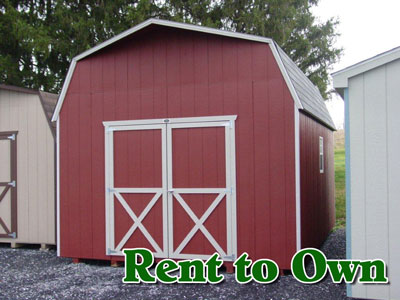 Rent-To-Own
Miller's Rent-To-Own program is the perfect answer to an age-old dilemma.  Supposing you need more storage space.  Really need it.  Trouble is, there's a chance you'll be moving in a couple years.  What do you do?
You could pay to rent a storage locker somewhere, but its not the handiest answer for things you want access to, like your lawn mower.
OR…
You could rent the custom building of your choice, delivered and set-up on your lot!  After three years it's yours!  On the other hand, if that move comes sooner than you thought, you simply cancel the agreement, penalty-free!
You can even custom order.  When you tour the lot at Miller's you'll see… the in-stock selection is enormous!  If you see a building you like, but it needs a door in a different place, or you want it in another color, Miller's will special order for you!
Real Savings…
Miller's guarantees the lowest price in the area on any building you choose.
Who Qualifies…
Miller's Rent-To-Own Program is available to home owners and home renters alike who live within a 60 mile radius of Fishersville, Virginia.  There is no credit check requirement.
Two Ways To Pay…
If you choose to make payments by direct withdrawal from your checking account, the down payment requirement is just three month's rent, (the first month and the last two months).  If you choose to pay by mail, the down payment required covers four months rent, (the first month and the last three months).
For further details visit the lot, email us or give us a call at (540) 949-5475.